Among the unique experiences you can have in Morocco, one of the most spectacular and exciting is definitely to experience unusual or alternative accommodations. We at Ranch de Diabat recommend one of our bivouacs.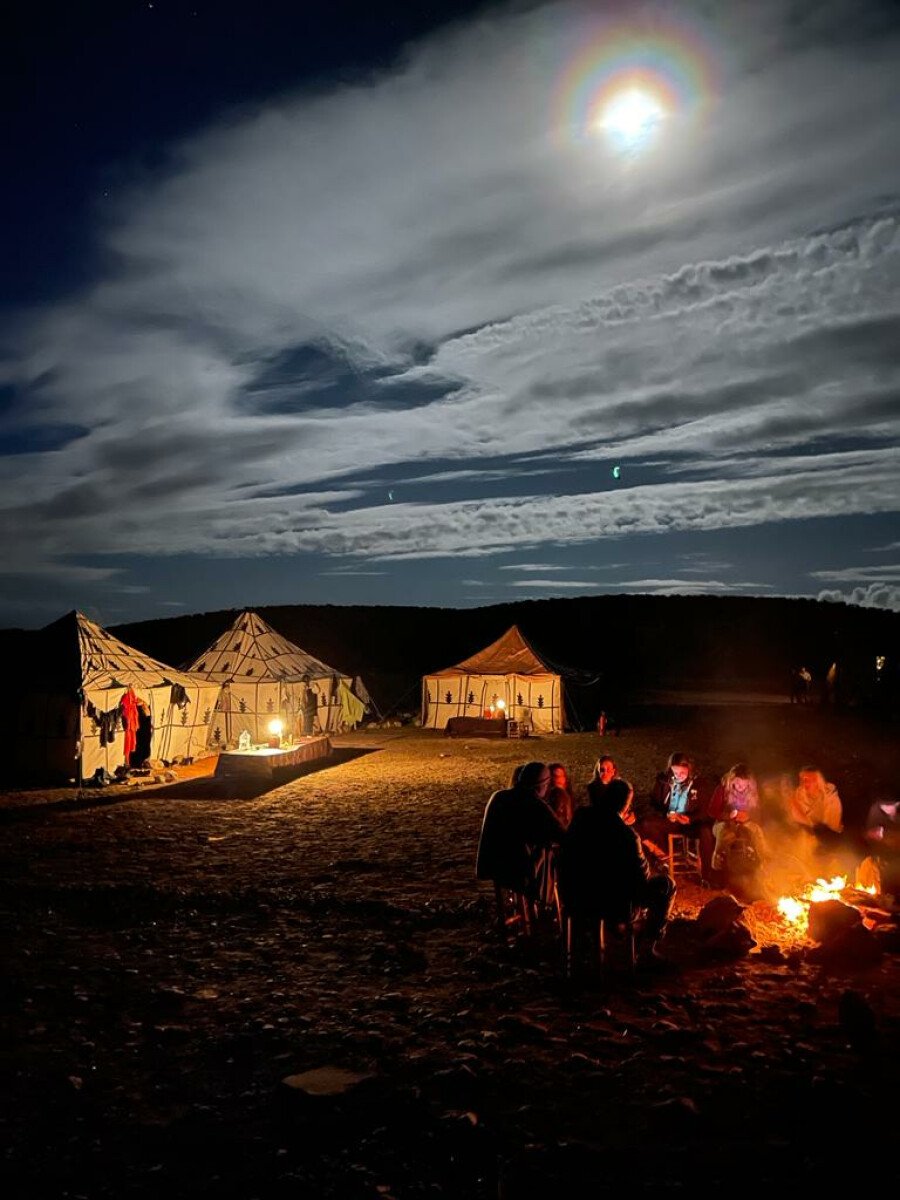 Moroccan Bivouac
Suitable for groups of friends as well as couples, and highly recommended for families with young children, the Moroccan bivouac we organize for you can be privatized or shared with other people, each staying in their own traditional Amazigh tent but sharing the experience.
That of the Moroccan bivouac is a unique experience that will remain etched in your heart and memories.
The location, a cliff overlooking the Atlantic Ocean, will amaze you by offering its mind-boggling sunsets, surrounded by argan and tamaris trees; although in simplicity, the comfort of the services is assured, with typical Moroccan meals to indulge in, starting with the iconic mint tea with dried fruit; let yourself be carried away by the conviviality of our staff and the opportunity to share experiences, perhaps in front of the comforting warmth of a bonfire.
This will be an evening like no other you will have spent, sure to be memorable.




Traveling Bivouac
This type of bivouac is provided on multi-day trekking routes, such as the one that will take you to visit Amazigh villages.

This is an eight-day trek, six of which are on horseback, with four days in the mountains and two among beautiful beaches and cliffs, between the landscapes of Agadir and Essaouira, moving within a total radius of 180 km.
You will have the opportunity to visit several Amazigh villages along the way, and to immerse yourself in the traditions and customs of the local people, who will immerse you in their rhythms of life of bygone days.
Gestures of daily life, which will accompany you until the evening, when we gather in front of the bivouac bonfire, to tell each other about our experiences and emotions, after our cook has delighted you with delicacies of Moroccan cuisine, carefully prepared on the spot.


Collaboration with the Hotel Vent Des Dunes
For those of you who would like to enjoy total relaxation here in Morocco, we present our collaboration with the Vent Des Dunes hotel in Essaouira: a large family villa surrounded by a flower garden, located a 2-minute walk from the beach and 15 minutes from the Medina.
Be swept away by the colors of our wonderful land: the thematically painted rooms all have a balcony or terrace.
And to regain your strength after one of our excursions, you can relax in the hammam or sauna.
Come and discover Morocco, there is something for every kind of traveler.