Morocco is a land full of culture and mystery where you can lose yourself among food, breathtaking landscapes and architecture always accompanied by rhythmic and suggestive music.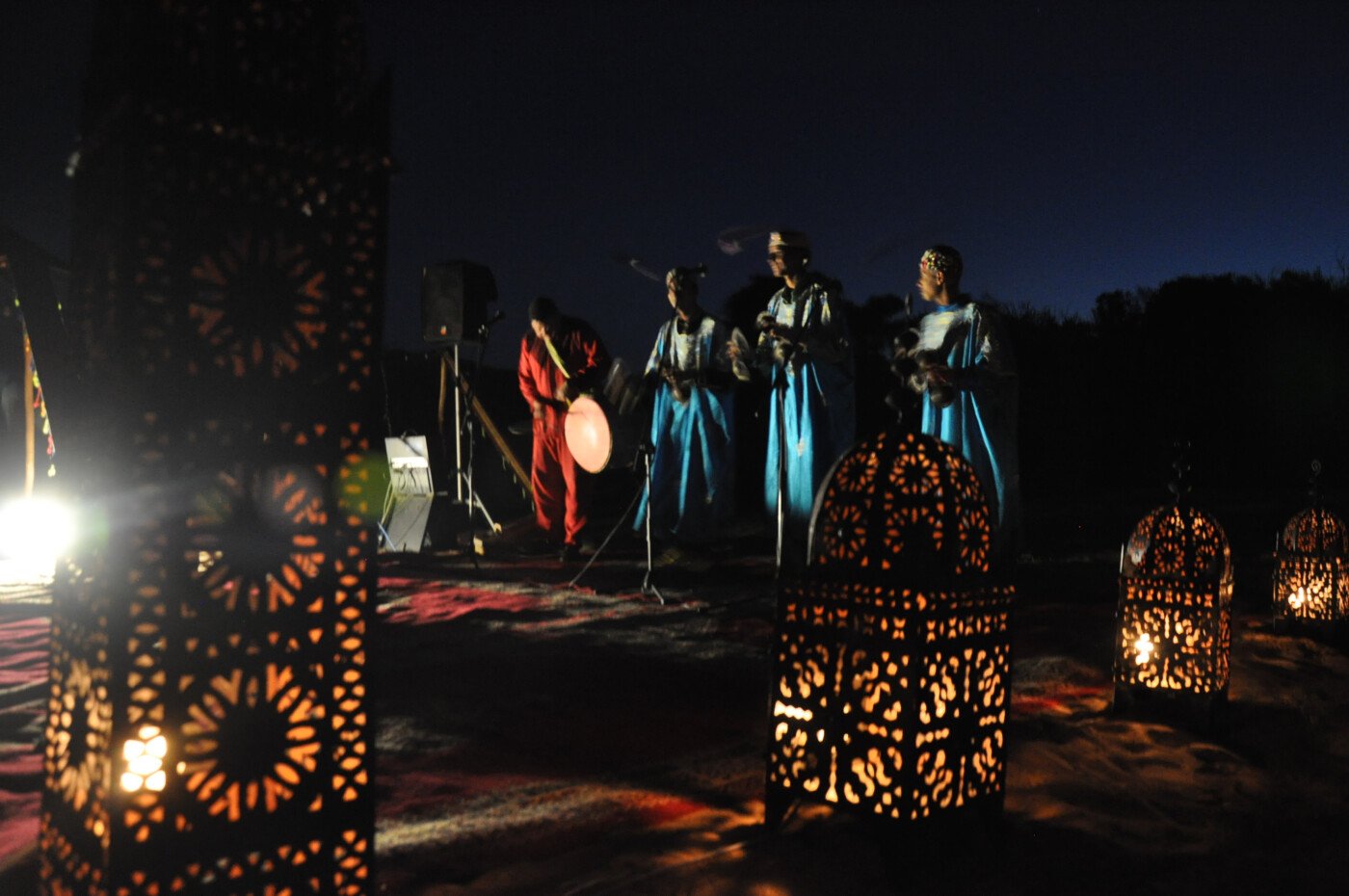 The origin of traditional Moroccan music has its roots in very distant times
when it was completely on the agenda to witness the mass deportation of black populations and the trafficking of slavery.
The deportations of local populations across the Atlantic Ocean are famous, but those that occurred to the old continent and Africa should not be underestimated either. Here the nations proved to be fully available and highly interested in buying labor from the Saudi Arabs who occupied these lands and in turn used the local populations in the heaviest jobs.
They were used in the dirtiest and most degrading jobs, such as in agriculture, manufacturing, but also in combat, so much so as to give rise to a completely new category of warriors, the enunchi, skilled soldiers trained with deprivatory and inhuman techniques to remain on the guard of the house of the sultan.
In this climate of deprivation, suffering and slavery different types of musical currents were born such as Arab-Andalusian music, Reggada, Dakka Marakchia, Ahidous, Hait and Gnawa.
Gnawa music: between tradition, slavery, and rituals
One of the most characteristic music of the Moroccan tradition is Gnawa music
. In fact, it is almost defined as "trance music" precisely because it is the fulcrum of traditions, beliefs, and rituals. In fact,
we are talking about music that involves different arts, songs, and dancers who perform pirouettes of great effect that communicate all the suffering of an oppressed people, destroyed by the conquerors and deprived of all human rights.
Among their choreographies accompanied by this ritual music, you can feel the vibrant suffering of this culture, enslaved and deprived of its rights.
However,
this genre of music cannot be defined only as a representation of the suffering of these people,
in fact, it is also
used for various ritual dances among which the most interesting and important is the "Lila" ritual in which the participants get in touch with supernatural entities who bring them advice, warn them and answer their questions.
In fact, devotees approach this ritual music above all to obtain healings, purify themselves and get in touch with those who cannot see in everyday life.
The instruments of the Moroccan musical tradition

It is also interesting to understand the typical tools used by these populations who have maintained the same for generations.
One of these is precisely what is called the "Gimbri", a kind of guitar-drum with strings made from animal gut and the sound box completely made of wood used mainly in Gnawa music.
Instead, typical of Berber music we find several really interesting instruments:
the Taɣanimt, a reed flute used as an accompaniment to songs;
the Mizwid, very much attributable to a bagpipe and called in this way because it resembles a "food bag";
the Tabl, a double-sided cylindrical drum that is positioned vertically on the body to be played standing;
the Qaraqib, metal castanets of fair size that can be held and played directly with one hand.
Modern Moroccan music and songs
In this new era, currents have also developed in Morocco that bring new styles of singing and rhythm, which often completely deviate from the musical tradition of the territory. Many of the more modern songs originating in Morocco are in fact of a much more Western style, so much so that, were it not for the original language, it could hardly deviate from the music that is heard in the West every day.
Among the most listened to songs by Moroccan singers we can distinguish at least 5:
Yema, a song born from the collaboration between Balti and 7liwa, two rappers who have been able to integrate two worlds, that of their origins and the modern one. In the video clip you can clearly see the way in which the two rappers live in modern society giving excerpts of their daily life;
Ana Wyah, a piece by Ibtissam Tiskat, in whose videoclip you can see all its modernity without ever detaching itself clearly from its origins and from its native language;
Dnia, a song by rapper Komy, in whose videoclip shows his land and although the sound is much more in step with the times, it keeps its native language;
My lady, by Muslim, in whose video clip and song you can hear how they managed to wisely integrate modern music, choruses in English and a song entirely sung in their language;
Hollelah, song by pop singer Samira Said, in which video clip and song you can immediately see an avant-garde singer who has created a completely modern song but which does not completely deviate from its origins as it is made entirely in the language of origin of the singer.
Gnawa dinner and music
Discover
the Quad experience for the Essaouira region
, which ends with a magical private dinner accompanied by Gnawa music. You will be able to taste the delicious
typical Moroccan cuisine
and enjoy the mystical experience of listening to traditional Gnawa music players.